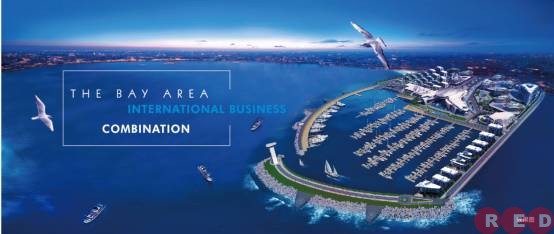 青岛西海岸新区是中国第九个国家级新区,依山傍海,景色雄壮秀丽,是世界旅游组织公认的"中国北方最具开发潜力的旅游度假地之一"。这里山海相依,美如画卷且独具韵味。
282公里的海岸线分布着"亚洲第一滩"金沙滩及银沙滩、灵山湾城市阳台、龙湾海水浴场等青岛极为优质的海滨沙滩;拥有"海上西湖"唐岛湾、"岸海名山"大珠山、"海疆名山"小珠山、"天下第一古台"琅琊台、"中国北方第一高岛"灵山岛等众多景区景点;目前建成 A级景区22家,其中4A级景区7家;星级酒店24家,高端服务品牌集聚,超万间客房的高端酒店群正逐渐形成。
Qingdao west coast new district is the ninth national level new district, which is located next to mountain and ocean, with great and beautiful view, it is one of the "Tourism Locations with the Most Development Potentials in North China" publicly acknowledged by international tourism organizations. It is accompanied with mountain and ocean, beautiful as pictures and with unique charisma. 282 km coastal line in length is dotted with the "number one beach in Asia" Golden pebble beach, Silver pebble beach, city balcony of Lingshan bay, dragon bay beach etc best sand beach; It has "ocean west lake" Tangdao bay, "famous coastal mountain" Dazhu mountain, "famous ocean mountain" Xiaozhu mountain, "number one ancient platform" Langxie platform, "Highest island of North China" Lingshan island etc tourism sites; Currently there are 22 grade A sites, in which there are 7 grade 4A sites; 24 star hotels, clustered with high end service brands, and high end hotel group with over 10,000 rooms is gradually forming.

青岛国际游艇会展中心位于青岛西海岸核心位置,总投资12亿元人民币,占地面积16万平米,总建筑面积26万平米;海域面积30万平米。设计有游艇会展中心、游艇及客运码头、购物中心、商业步行街、超市、酒店、商务楼、娱乐设施等。
项目以游艇产业为核心、以旅游度假为主题,致力于打造包括游艇展览展示、海上观光、陆岛航运、休闲购物、商务活动、娱乐赛事等的一站式旅游度假胜地,年可接待游客100万人次。
Qingdao international yacht expo center is located at core position in Qingdao west coast, total investment is 1.2 billion RMB, land space is 160,000 ㎡, total construction space is 260,000 ㎡; and ocean space is 300,000 ㎡. Designed to have yacht expo center, yacht and passenger ferry wharf, shopping center, commercial pedestrian street, supermarket, hotel, office tower, entertainment facilities etc. Project is based on core of yacht industry, and themed on tourism and vacation, dedicates on building a one stop tourism and vacation site containing yacht exposition, ocean tour, island ferry, leisure shopping, business activity, entertainment and games etc, with an annual tourist accepting capacity at 1 million people.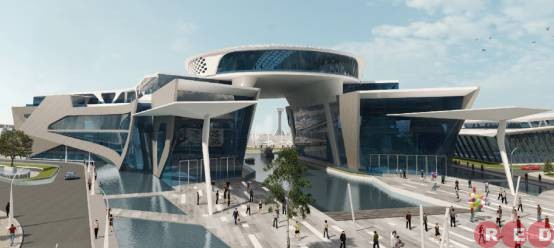 此次邀请赛活动旨在通过"群智群策"的方式激发公众参与城市建设主动性,以优秀的建筑设计作品激活城市公共空间活力,以文化品质和创意设计引领城市发展,打造青岛"旅游之都"的文化特色,进一步扩大青岛的文化影响力。
This invitation contest is to activate public to participate city construction through method of "group intellegence", to activate city public space by excellent constructional design works, and to lead city development via cultural quality and creativity, to nurture cultural features of Qingdao, the "capital of tourism", and further expand Qingdao's cultural influence.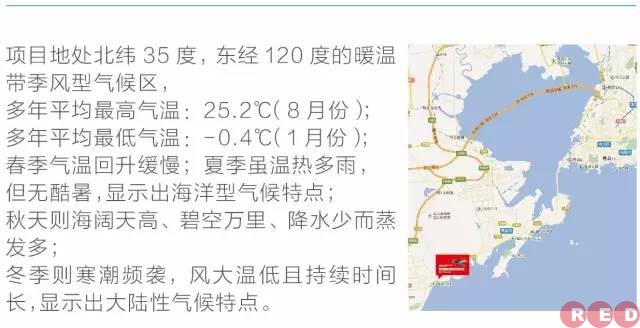 Site is located in north latitude 35 degree, east longitude 120 degree warm monsoon climate zone, highest temperature averaged over past years is 25.2℃(August); lowest temperature averaged over past years is -0.4℃(January); Temperature rises slowly in spring; although its humid with plenty of rain in summer, but with no severe heat, showing features of ocean climate; in fall its air is clean, sunny, less rain but more evaporation; in winter with visit of frequent cold storms, wind is strong and continued for long time, showing continental climate features.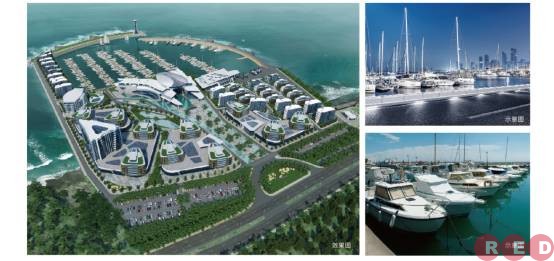 青岛国际游艇会展中心是西海岸新区沿海旅游板块的重要组成部分,打造魅力滨海岸线亦需要媲美东岸城区栈桥一般的地标性景观桥,让每一个来过和听说过这里的人都印象深刻,以创新设计提升青岛的城市形象,以文化塑造青岛的城市魅力。
Enlighten west coast, charismatic new landmark
Qingdao international yacht expo center is an important part of west coastal new district, in order to build charisma coastal lines also requires landmark bridge, which can compete with ones on eastern coast, to leave deep impressions on each and every one ever visited here, to improve Qingdao's city image through creative design, and cultivate Qingdao's city charisma via culture.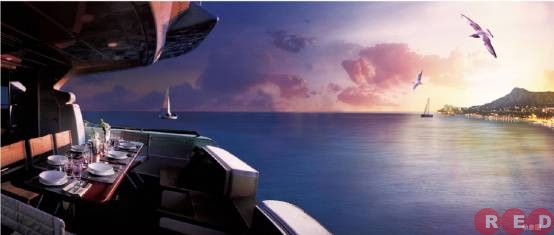 主办单位:青岛市黄岛区旅游局
承办单位:青岛明天国际游艇会展中心有限公司
协办单位:青岛摩登时代规划建筑设计有限公司
推广单位:青岛道非互动文化传播有限公司
由评审专家、主办单位、承办单位、协办单位等代表组成2016青岛国际游艇会展中心码头景观桥暨灯塔方案设计竞赛活动组委会。
Hosting unit: Qingdao huangdao district tourism bureau
Facilitating unit: Tomorrow in Qingdao international yacht exhibition center co., LTD
Co-organizor: Qingdao modern times planning architecture design co., LTD
Promotion unit:Qingdao way of interactive culture communication co., LTD
The Organizing Committee of the 2016 Qingdao international yacht exhibition and Convention Center pier landscape bridge and the lighthouse project design competition is composed of the evaluation experts, the organizers, the organizers and the cooperative units.
(一)征集资格:
1、海内外道桥设计师、建筑师等相关设计从业者;
2、海内外建筑或艺术设计院校学生;
3、参赛者以自然人、公司机构或联合体形式参赛均可,作品数量不限。
参赛者须确保其作品原创性,另外获奖作品不能参加其他平台类似的大赛。
 1 、 For qualification
1.1, road and bridge at home and abroad, designers, architects and other related design practitioners;
1.2, building or art design from home and abroad, colleges and universities students;
1.3, the competitors in the form of natural person, company institution or association, any number of works.
Participants shall ensure that the original work, besides winning entries not to participate in the contest of other platforms are similar.
(二)报名:
截止时间:2016年10月31日17:00,逾期报名无效。
下载本公告附件,并按《报名须知》要求进行报名;
组委会向各大学校、设计机构发送电子邮件/传真邀请函。
2、 To sign up:
Deadline: October 31, 2016 17:00, overdue invalid.
Download the attachment, the announcement and registration required by notice for registration;
The organizing committee to each big school, design institution send invitation email/fax.
(三)设计成果提交:
截止时间:2016年11月30日17:00,逾期提交无效。
参加竞赛活动者按照《设计任务书》的要求提交设计成果。
3、 Submit design results:
Deadline: November 30 , 2016 17:00 , late submission is invalid.
Competition activists submitted according to the requirements of the design plan descriptions of the design results.
(四)参赛须知:
参赛者须确保参赛作品为原创,同时保证参赛作品不违反中华人民共和国相关法律法规,不损害任何第三方的知识产权及其它法律权益,如有违反则取消其参赛资格并需要参赛者独立承担相应的法律责任。
所有本次大赛的获奖作品,竞赛组织方拥有以下权利:
对所有奖项作品公开展览和长期收藏、使用的权利,对此竞赛组织方不再另行提供任何形式的奖励;
组委会有权对已经签署知识产权利益分配协议的参赛作品进行修改或再开发;
所有提交的参赛作品大赛组委会不予返还,参赛者自行存稿。组委会不承担参赛作品因任何原因遗失或失窃所造成对参赛者的损失;
组委会不承担参赛者或第三方因参加本次大赛所产生的任何间接、附带、特殊或相应的损失,包括但不限于利润或其他无形损失;
4、 Entry requirements:
For original works the competitors shall ensure that, at the same time ensure that entries do not violate the relevant laws and regulations of the People's Republic of China, does not damage to any third party's intellectual property rights and other legal rights and interests, such as a violation will be disqualified and need participants independently bear corresponding legal responsibilities.
All the winner of the contest, the organizers have the following rights:
4.1,Open to all award works exhibition and the rights of the collection, use for a long time, will not be additionally provide any form of compensation to the organizers;
4.2,The organizing committee reserves the right to intellectual property interests distribution agreement has entries modified or further development;
4.3,All submitted entries contest organizing committee will not be returned, the entrant to save draft. The committee does not undertake entries for any lost or stolen reason caused damage to the participants;
4.4,The committee does not assume the competitor or third party for taking part in this competition generated by any indirect, incidental, special or corresponding losses, including but not limited to, profit or other intangible loss.
4.5,Don't rule out the possibility of awards vacancy.
(五)作品评审:
评审日期:2016年12月1日-12月18日
注:组委会保留更改本次竞赛活动作品评审时间的权利;如有改动,将提前7天在竞赛官网及竞赛专用微信平台发布通知。
5、 Work review:
The inspection date: on December 1, 2016 - December 18
Note: the organizing committee reserves the right to change the competition works review time. If there are any changes, will be 7 days in advance in the competition's website and special competition WeChat release notice.
(六)评审标准及方式:
功能需求:设计考虑产品在设计中的功能性及实操性;
创意创新:根据自己对空间设计的理解大胆创新,不拘一格,引领城市风尚;
长时审美:设计美学不受时间影响,通过质感突出细节,符合对青岛城市文化的凸显。
1、由评审专家组对提交作品分两个阶段进行评审
第一阶段,由组委会组织评审专家组进行初选,确认入围作品数量20名;
第二阶段,评审专家组对入围作品进行投票评选,最终评选出6个获奖作品;
2、评审专家组
本次竞赛活动评审组由主办单位、承办单位、协办单位及相关领域专家组成。
3、网络评审团
将第二阶段入围作品上传至网络端,借助大众的力量,评选出民意心中的好作品,网络评审团的意见将计入到最终获奖作品的评选之中。此举不仅更加公正,而且能够更大程度地推广大赛及项目。
6、 Review of standards and ways:
The functional requirements, the design considerations in product design of the functional and field;
Creative innovation: according to his understanding of space design bold innovation, not stick to one pattern, leading the city fashion;
Aesthetic: long design aesthetics is not affected by time, by texture fine details, conforms to the culture of Qingdao city.
6.1, by the review panel to review submitted works in two stages
The first stage, organized by the organizing committee review panel for the primaries, confirmation number be seleted work 20;
The second stage, the review to vote, the panel of judges ultimately selected 6 winning entries;
6.2, review the panel
The competition board by the co-organizers of the host units and sponsoring units, and experts in related field.
6.3, the network panel
Will be uploaded to the network side, be seleted work in the second stage with the power of the masses, identify the good work, public opinion in the network the opinions of the jury will have to be included in the selection of the winning entries to the final. The move is not only more fair, but able to promote competition and a greater degree program.

一等奖:1名,奖金十万元+40英尺游艇泊位3年使用权+灵山湾日月天游艇俱乐部荣誉会员;
二等奖:2名,奖金五万元;
三等奖:3名,奖金二万元。
First prize: 1, bonus one hundred thousand yuan +40 feet yacht Berth 3 years of use rights;
Second prize: 2, bonus fifty thousand yuan;
Third prize: 3, bonus twenty thousand yuan.

附件一:报名须知及报名表
http://www.qdyacht.com/download/baomingbiao.doc

附件二:设计任务书及相关资料电子文件
http://www.qdyacht.com/download/bridgedocuments.zip
Attachment 1: Application note and application form
http://www.qdyacht.com/download/baomingbiao.doc
Attachment 2: Design task letter and relevant document digital file
http://www.qdyacht.com/download/bridgedocuments.zip