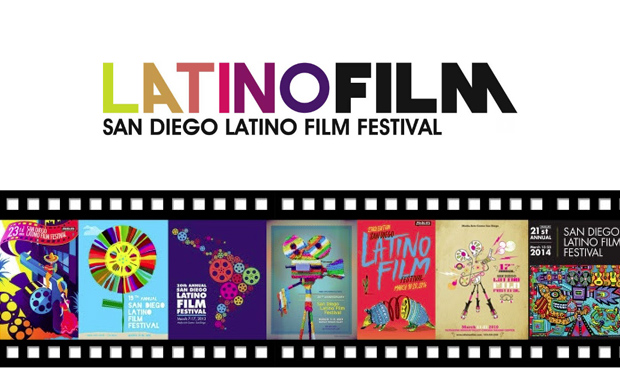 第24届圣地亚哥拉丁美洲电影节海报大赛
24th San Diego Latino Film Festival (March 16-26, 2017)
International Poster Competition
Submit your poster design for a chance to be a part of our history!
The San Diego Latino Film Festival (SDLFF) is looking for a new iconic image that captures the essence of our annual celebration of Latino film, music, and art. Your work of art could be the face of the 24th edition of the SDLFF! National and international exposure includes but is not limited to: the cover of the Official SDLFF 2017 Program book, print ads, TV commercials,  social media posts and web banners. The best part?
The winning artwork will receive a prize of $1,000.00 dollars!
Who can participate?
This is an international poster competition, open to designers of all professional levels.
There is no entry fee.
Selection Process
A panel of distinguished judges (composed of artists, graphic designers, and art educators) will vote on the winning poster and finalists.
Prizes
Top Prize: $1,000.00 dollars and promotional exposure in ALL marketing festival related marketing materials
10 Finalists – 2 tickets to the 24th San Diego Latino Film Festival (March 16-26, 2017) & limited promotional exposure!
Deadline
Artwork must be submitted by November 10th, 2016.
Guidelines for the 2017 Poster Competition
Please review the guidelines below very carefully. Failure to adhere to any of stipulations made below may disqualify your submission.
1. Poster design must be submitted online:
a. Click the button below to submit your design.
b. Or type in the following URL on your browser: 
https://filmfreeway.com/festival/24SDLFFPosterContest   (在线上传地址)
2. Poster design must appeal to general audiences (all age groups). Poster may not include: nudity, weapons, offensive imagery, and derogatory text. We expect artists to exercise their best judgement in making creative decisions.
3. Important: Your artwork must be free of any generalizations about the Latino culture. This includes but is not limited to: stereotypical imagery, icons specific to one country, and uninspired stock visuals.
a. Icons that may not be represented in the design include: chiles, nachos, skulls, papel picado, piñatas, cactuses, sombreros, etc.
4. The San Diego Latino Film Festival is first and foremost a CELEBRATION of Latino culture. Our legacy endures year after year because we have maintained our focus on giving underrepresented perspectives of the Latino experience the opportunity to be showcased cinematically.
In designing your artwork, think of what types of Latino experiences you would like to see more of. As an artist, you are a vanguard of culture and should propose new and exciting interpretations of the Latino experience.
Some keywords to guide your design:
Diversity, Celebration, Movies, Culture, Arts, Innovation
San Diego – Baja California Region, Traditional, Inclusive, Honoring Latino Filmmakers
5. Two (2) versions of the poster must be submitted:
a. Image only (no dates, text, nor logo)**
b. Image AND text (text to include: 24th Annual San Diego Latino Film Festival and March 16-26, 2017)
**Both designs will be considered in our 2017 Poster Competition. However, if your "Image only" design is selected, the San Diego Latino Film Festival will be determine the appropriate festival logo and typography.
6. Computer graphics, as well as paintings, may be used to compose the design.
7. Poster design must be functional – Your design will be used in advertisements, catalogue, website and other marketing materials.
Specifications
When submitting artwork please include [Artist Name]_[Name of Poster]. 
Example: Name_postername01.jpg
*Artwork without these details will not be considered.
Include a brief description of your artwork
Format
JPEG
18″ wide x 24″ high
150 DPI (RGB)
4 MB
In addition, if you make it past the preliminary round of entries: 
Digital Format 18″ wide x 24″ high at 300, DPI (CMYK).
Disclaimer 
Poster designer authorizes Media Arts Center San Diego to use all the components of winning artwork. Artists can keep and use original artwork.
For more information email: rosana@mediaartscenter.org or call 619-230-1938.
官网:http://www.mediaartscenter.org/